"i'm sick of this shit, he think i can't find his ass in australia. i'm a have a knot put right on his fucking" LMAO!
So tough guy rapper 50cent is mad!!! He's hella mad in all sorts of "rainbow ways". You see the rapper birthed named Curtis Jackson is steaming mad over some murals in the LAND DOWN UNDER which are using the make up worn by Alphabet snitch rapper SIX Nine (Who sucks!) to the point he's making threats on his Instagram page.
Check out the post….. Hilarious!
For those of you who don't know who the rapper "Six9" is, and why 50Cent would be mad at this connection besides the rainbow colors? Well for one this is the rapper in question.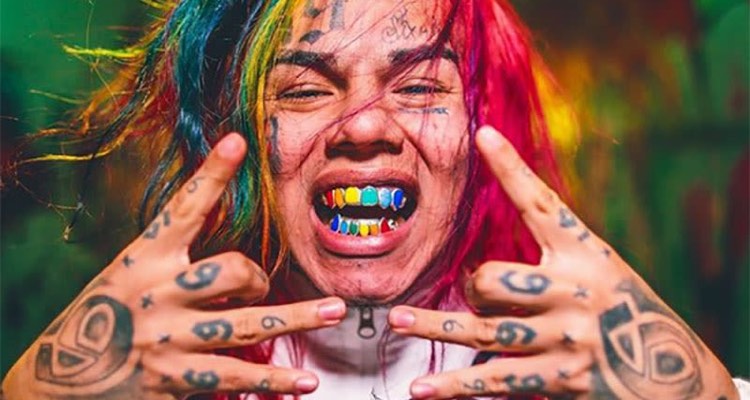 He also faced charges and was about to serve a long prison term on weapons charges until he snitched on some people, and got his sentence reduced… Why do people make the hilarious mural? Well maybe cause at one point some called 50 a Snitch also… I don't think 50 was, and or is a snitch but Six9 is a snitch, and so I get why 50 would be mad… But still funny shit bro. LMAO!
Previously, Australian street artist Lushsux has drawn and painted murals of 50 Cent's face on various figures like Taylor Swift, Donald Trump, and Mike Pence, who he clowned for not wearing a face mask during a clinic visit. However, the Australian artist may have crossed the line as he drew 50 Cent's face mixed with Tekashi 6ix9ine's rainbow hair and face tattoos.
50 posted the mural of his face on Tekashi's head and said "i'm sick of this s**t, he think i can't find his ass in australia. i'm a have a knot put right on his f**king head." The message was clearly directed to the artist, and this comes after 50 Cent did an interview last week noting he wasn't interesting in working with Tekashi moving forward. Tekashi fired off a response at the rapper, saying it wouldn't be the first time 50 abandoned his son. Previously, 50 referred to Tekashi as his kid.
Tags: 50 Cent, 50Cent, Australia, Rapper, Six9, SixNine, This is 50